Five in a Row Volumes 1-8
Five in a Row Volumes 1-8 form the core of Five in a Row's elementary and middle school curriculum, providing inspired learning through great books at every level. Each unit is based on a children's picture book (Volumes 1-5) or a chapter book (Volumes 5-8), drawing high-interest, age-appropriate lessons that cover virtually all academic subjects. In Volumes 1-3, your student will spend one week of study per unit; in Volumes 4-5, picture book studies will take two weeks. Chapter book studies in Volumes 5-8 will vary in length depending on your student's needs. One of the hallmarks of the Five in a Row curriculum is its flexibility, so the amount of time spent per unit, and per volume, may vary from family to family.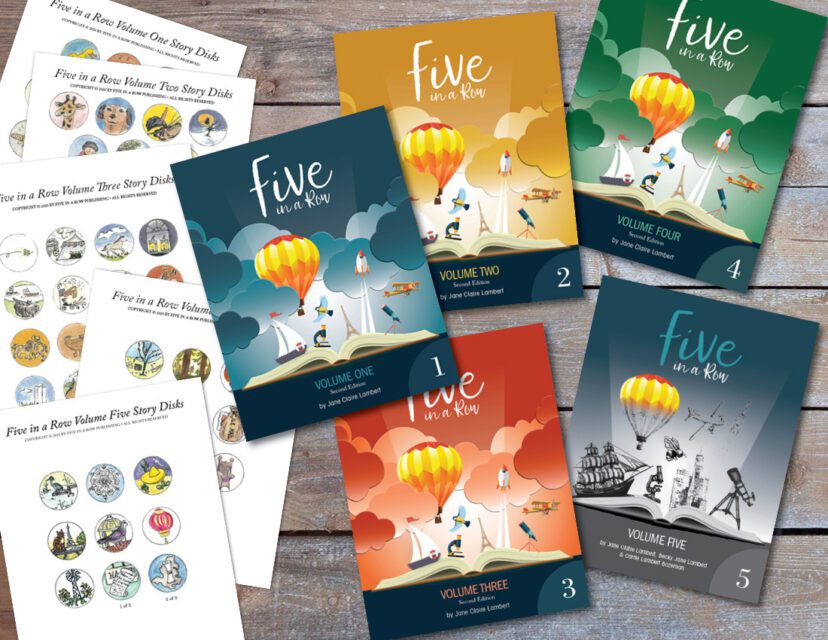 In Volumes 1-5 (picture book studies), lessons cover Social Studies (including History and Geography), Language Arts, Art, Applied Math, and Science. Volumes 5-8 (chapter book studies) cover Social Studies (including History, Geography, and Career Paths), Science, Language Arts (including Writing and Discussion Questions and Vocabulary), Fine Arts, and Life Skills.
Interest-based, discussion-based, and play-based learning techniques are utilized throughout Five in a Row to capture your student's attention and increase retention of the material. This makes Five in a Row ideal for all learning styles! For younger children, play-based learning might occur through dramatic reenactment, hands-on building, or the activity sheets provided with each lesson. In addition to the discussion-based lessons, older students will enjoy virtual tours, scavenger hunts, and vocabulary crossword puzzles—just some of the ways Five in a Row inspires learning and retention.
If you are looking for a solid educational foundation that appeals to your students, builds on previous knowledge and fosters retention, and creates lifelong memories … you've found it! Whether you begin your journey with Before Five in a Row, Volume 1, Volume 5, or an even later volume, you've made a great educational decision for your student and your family.
To learn about each Five in a Row volume or to purchase them,
click on the images below.
*Fiveinarow.com does not sell internationally. International orders can be placed through Rainbow Resource Center or Amazon.
Volumes 1, 2 and 3 (ages 5-9)
Volumes 4 and 5 (ages 9-12)
Volumes 6, 7 and 8 (ages 10-12+)