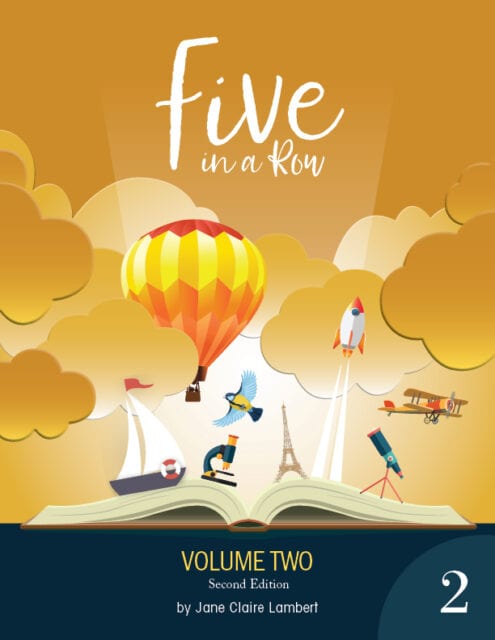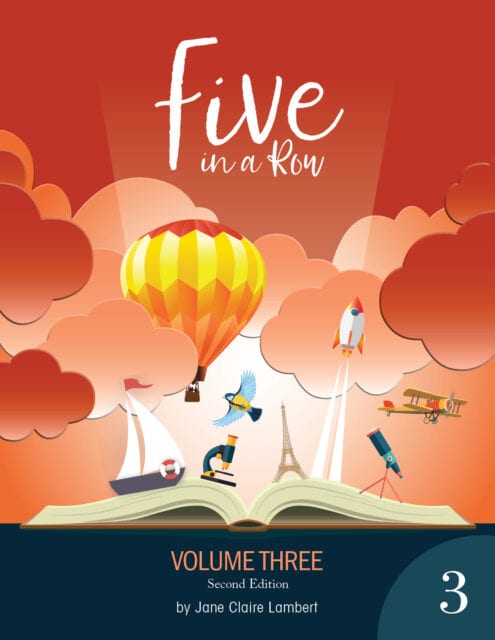 $49 each
Five in a Row, Volumes 1-3 (Ages 5-9)
Five in a Row, Volumes 1, 2 and 3 (Ages 5-9) are easy-to-follow, highly effective instructional guides for teaching Social Studies, Language Arts, Art, Applied Math, and Science using outstanding children's literature as the basis for each weekly unit study. Lessons are designed for children ages 5 through 9, and include a discussion guide and questions, teacher answers, hands-on activities, and suggestions for further study. Scroll down to get a sample unit from Five in a Row Volume 1 based on The Story About Ping.
Visual, auditory, and kinesthetic learners and teachers will all benefit from Five in a Row's variety of lessons and activities, which are carefully laid out and available for you to choose whichever one fits your schedule for the day. Expect to be ready to teach with as little as five minutes of preparation time. You'll find everything you need to be an effective teacher at your fingertips—pronunciation guides to foreign words or phrases, background information on history, geography, art, and science lessons, and facts, figures, and activity suggestions for a wonderful variety of hands-on learning experiences.
Special Features in Each Volume:
These volumes include Jane Claire's Tips for Those Beginning Five in a Row, with step-by-step teaching guidance for each day of the week; Teacher's Notes pages for every title, providing a place to record lessons, go-along resources, favorite memories, and more; and Activity Sheets for every title that support and add to the lessons.

In addition to the Five in a Row teacher's manuals, you will need to access the picture books that each unit is based on. You can get these through your library or you can purchase them online.

We recommend adding a Math and Phonics program to complete your curriculum for children ages 5-9. (Five in a Row does not include a complete math program, and does not teach how to read.)

If you would like to add Bible studies to Five in a Row, the Five in a Row Bible Supplement for Volumes 1-4 pairs Bible lessons with each unit from the first four volumes. Click here to purchase.
For a FREE sample unit from Five in a Row Volumes 1-3 and the booklist for each volume, please click here.
Full-Color, Laminated Story Disks
Story Disks are circles that have an image corresponding to each picture book used Five in a Row Volumes 1-5. They are available in black and white at the back of the manual for you to color in or have your child color in. Full-color, laminated disks come free with your manual purchase from fiveinarow.com.

The disks are used in Five in a Row Volumes 1-5 as a geography aid. You cut out the laminated disk and using removable teacher's putty, your student will attach the disk to a world map or U.S. map on the location that the story takes place. For instance, while studying the Madeline unit of from Volume 1, you'll discuss the geography lesson from the manual that talks about how Madeline lived in Paris, which is in a country named France. Then you would go to the world map with your child and find France, then Paris, and place the (Eiffel Tower) Madeline disk on that location. You can review this each day (taking the disk off after your lesson so that your child can find it again tomorrow on the map).
Five in a Row Story Disks for Volume 1, 2 and 3
Full-Color + Laminated = FREE with manual
*retail value $10.00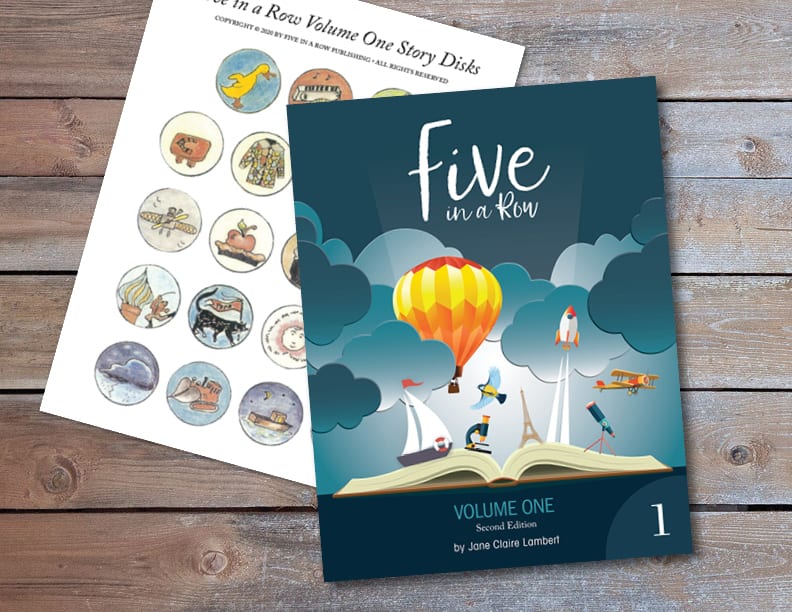 If you would like to purchase a Five in a Row story disk set for a volume individually, without a manual purchase, please email carrie.fiveinarow@gmail.com for more information.
Five in a Row, Printed Products Only Return Policy: You can return items in like-new condition within 30 days of the original ship date for a full refund of the merchandise value. Buyer is responsible for return shipping costs and the original shipping and handling fees are not refundable. If you receive a damaged or incorrect product please notify us right away through the customer service email addresses available at www.fiveinarow.com/contact so that we can make things right.