by Kate Hodge
When I was a child, I remember curling up with my mother and brothers. We sat under a warm knitted blanket in front of the wood stove with the heavy Michigan snow falling outside the window. This memory is not singular, but morphs and grows throughout my childhood, the unifying factor is that my mother always had a storybook in hand. The Five in a Row story books and curriculum manuals are as familiar to me as a well-loved keepsake. With the birth of my oldest son, those keepsakes were passed down and eagerly accepted into our home.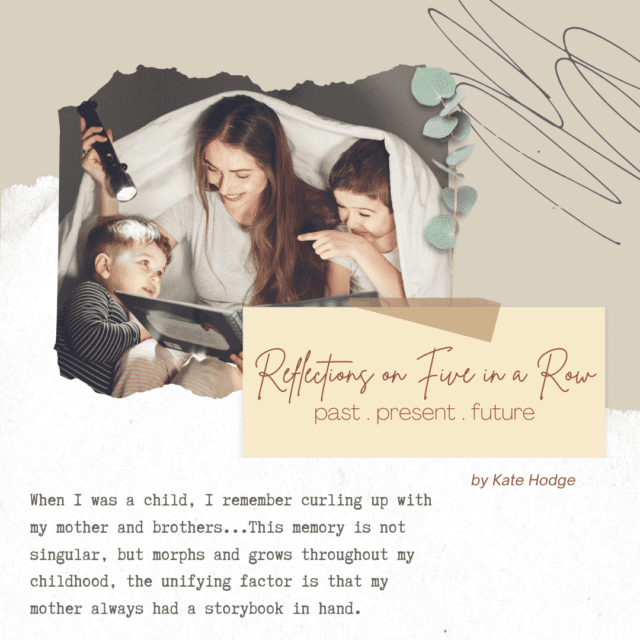 For two years I have shared the joy of my favorite childhood memories with my children, and our FIAR time has grown into new and beautiful experiences. Experiences entirely different as a mother, but no less precious.
In a recent move, my box of Five in a Row manuals was lost, and I am quite certain that they will appear just the moment I replace them. In an effort to pull through until I find them, I begrudgingly went to Pinterest in hopes of finding tidbits of resources for our favorite rows.
What I found instead was a totally different curriculum using the same books. I found lesson plans heavy in worksheets and contrived activities, plans weighed down with busywork. What I found was a poor and mutilated reference to the curriculum I love and have loved.
BFIAR leaves questions to be pondered, it leaves enthusiasm and excitement for the stories by not beating them to death with loosely "related" busywork. The booklist is wonderful, but the success of the program is not in the books featured, but in the process.
I know the pressure to have children who are, "competitive" and the fear of not doing enough. I live that right along with you. But I also remember the beauty of a childhood blessed immensely by FIAR and BFIAR. What a blessing it was to have time to ponder and delight in storybooks. To reflect deeply in my own way between readings and be amazed, excited and enthralled by the story anew each day.
So I hope that you can be encouraged, BFIAR is not just "enough." It is complete and abundant. The only thing that needs added, is you.