Description
In Cranberry Valentine, Mr. Whiskers laments to Maggie and Grandmother that he's never received a valentine. With a bit of help from Grandmother, all that changes—and Mr. Whiskers' lament turns to worry as he wonders who is sending him valentines! The mystery keeps him on his toes throughout the story, but in the end, he learns to appreciate the attention.
This Mini Unit will make a memorable week of study for your whole family! Lessons cover concepts drawn from the story, which include: Working in Social Settings (Sewing Circle, Quilting Bee, etc.), a Valentine's handicraft, Mystery Math (a.k.a. algebra), U.S. Postal History & The Pony Express, a tasty snack, and much, much more.
The book Cranberry Valentine by Wende and Harry Devlin is sold separately from the Five in a Row Mini Unit study. You can borrow the picture book from your local library or purchase it online from Purple House Press directly or from Amazon. Cranberry Thanksgiving and all the go-along books listed in the Mini Unit are available in our Amazon shop. ⁠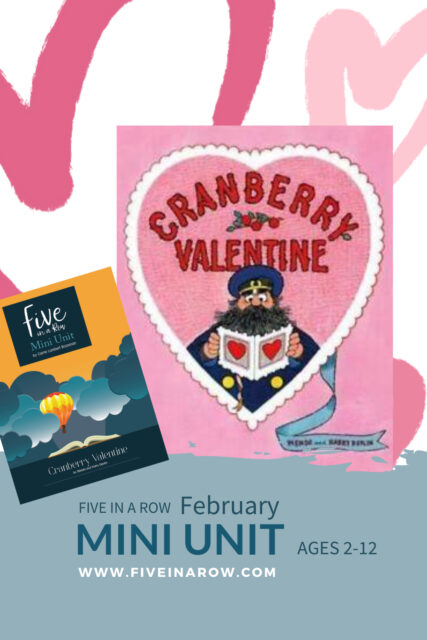 ---
The Five in a Row Mini Unit is a digital unit study based on a children's picture book (like the FIAR units from volumes 1-3).
Each Mini Unit will include a lesson for each of the five subjects that you find in Five in a Row units: Social Studies/Geography, Language, Art, Applied Math, and Science … designed for ages 5-9-years-old and up. There will be specific teaching tips, ideas, and suggestions for go-along books for ages 5-9.
There will be a section of suggestions, ideas, go-along books, and or teaching tips for ages 2-5 that will have a Before Five in a Row focus.
The Mini Unit will also include a section for Five in a Row ages 9-12 students. Older students will enjoy studying the lessons provided for the Five in a Row ages 5-9 section but will have two additional lessons that are designed to help them dig deeper into the FIAR lesson subject matter. There will also be specific ideas, suggestions, and go-along books for ages 9-12.
Activity pages that pair with specific lessons will be available at the end of each unit for additional learning opportunities.
Color and black and white story disks are included with each Mini Unit for use with some geography lessons and placement on a world or U.S. map.
The Mini Unit will also include a recipe or food suggestions to enjoy together that ties into the story!
The picture book/s on which the Mini Unit lessons are based are sold separately. You can access them through your local library or purchase them online through the Five in a Row Amazon shop