Before Five in a Row (Ages 2-4)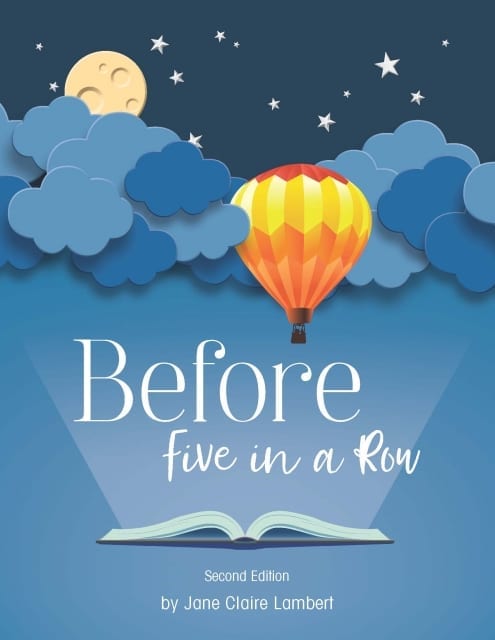 Designed to be used with children ages 2 through 4, Before Five in a Row is a rich treasury of creative ideas that help you gently, consistently prepare your children for the lifelong adventure of learning. Now in a revised second edition, this bestselling volume is the foundation for inspired learning through great books and future studies with the entire Five in a Row curriculum.
Before Five in a Row is divided into two parts. Part One contains hundreds of simple ideas and activities developed around 24 of the finest books ever written for young children. You'll find delightful activities built around such wonderful classics as The Runaway Bunny, The Carrot Seed, Corduroy, Caps for Sale, We're Going on a Bear Hunt, The Snowy Day, Katy No-Pocket and Blueberries for Sal. Each unit provides creative ideas and enjoyable activities designed to cultivate joyful intimacy with your child while building vital learning-readiness skills.
Pin this 👇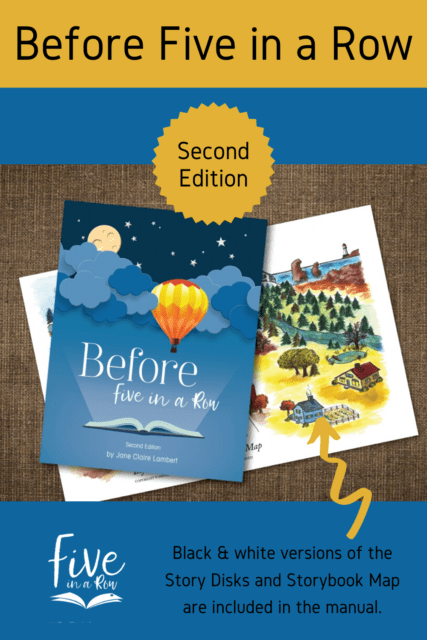 Part Two is a rich resource filled with specific ideas designed to help you prepare children for learning through simple, everyday activities. You will also find ideas for bath time, bedtime, in the kitchen, at the grocery store, and much more—information and inspiration to help you maximize these precious years, guiding and preparing your children well for their future academic journeys.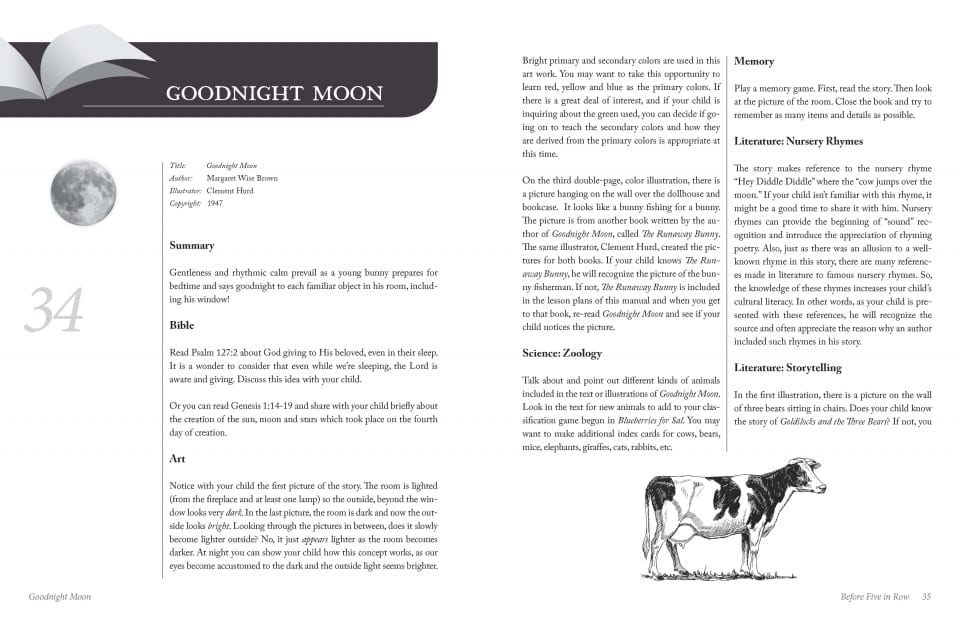 New features in this second edition include a new design with updated illustrations, Animal Classification Cards that help children develop simple, enjoyable classification skills, and Story Disks and a Storybook Map that provide hands-on fun and prepare your child for later studies with More Before Five in a Row and Five in a Row.
Before Five in a Row is the perfect introduction to the joys of parent-directed learning in a few moments each day!
Get your free sample unit download of Before Five in a Row
Pin this 👇
STORY DISKS & THE FULL-COLOR, LAMINATED STORYBOOK MAP!
Story Disks are circles that have an image that corresponds to a picture book used in Before, More Before, or Five in a Row Volumes 1-4. They are available in black and white at the back of the manual for you to color in or have your child color in. Full-color, laminated disks come free with your manual purchase from fiveinarow.com. You will need to purchase the full-color, laminated Storybook Map to use with your lessons. See the description below for more information on how you'll use the disks and map.
The disks are used in Five in a Row Volumes 1-4 as a geography aid. You cut out the laminated disk and using teacher's putty, you'll attach the disk to a world map or U.S. map on the location that the story takes place. For instance, while studying the Madeline unit of Five in a Row you would discuss the geography lesson from the manual that talks about how Madeline lived in Paris, which is in a country named France. Then you would go to the world map with your child and find France, and Paris and place the (Eiffel Tower) Madeline disk on that location. You can review this each day (taking the disk off after your lesson so that your child can find it again tomorrow on the map).
For Before and More Before, you will use the Storybook Map as the map to find each location of the story disk. The locations are listed in the teacher's manual at the end of each unit. For instance, while doing the unit on the story Owl Babies (More Before), your child will find the hollowed-out tree on the map to place the Owl Babies story disk on. This is to begin learning map skills which will lay a foundation for the future geography lessons they'll do in Five in a Row. You might choose to ask some basic questions like, "Is the hollow owl tree above or below the lake?" The Story Disks and Storybook Map are optional but will provide a rich learning addition to your studies.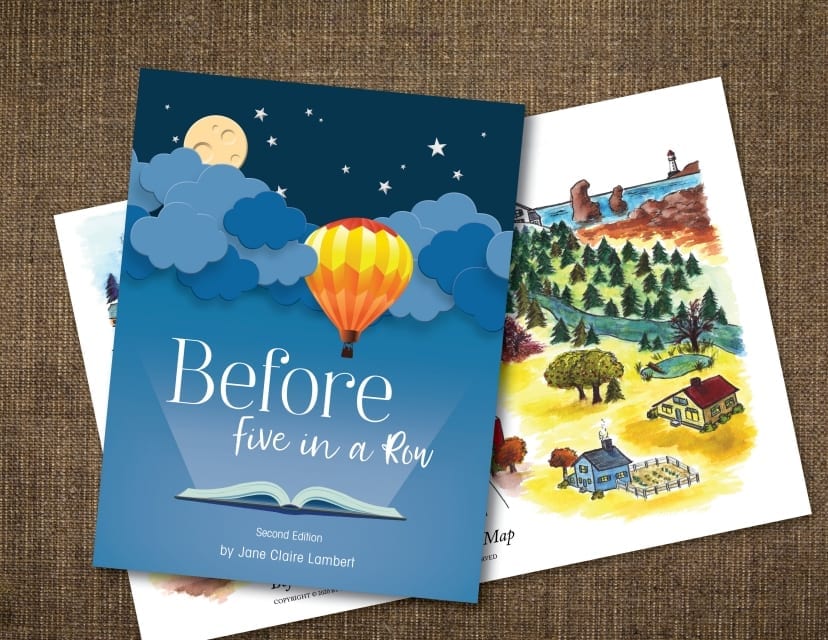 (Black & white versions of the Story Disks and Storybook Map are included in the manual. The full-color, laminated Story Disks come FREE with your manual purchase, add the full-color, laminated Storybook Map to your cart to purchase.)
Before Five in a Row
Story Disks
Full-Color + Laminated = FREE with your manual purchase
*retail value $10.00
(Do not add these Story Disks to your cart if you are also purchasing Before Five in a Row from our website. It will automatically be added to your shipment at no charge.)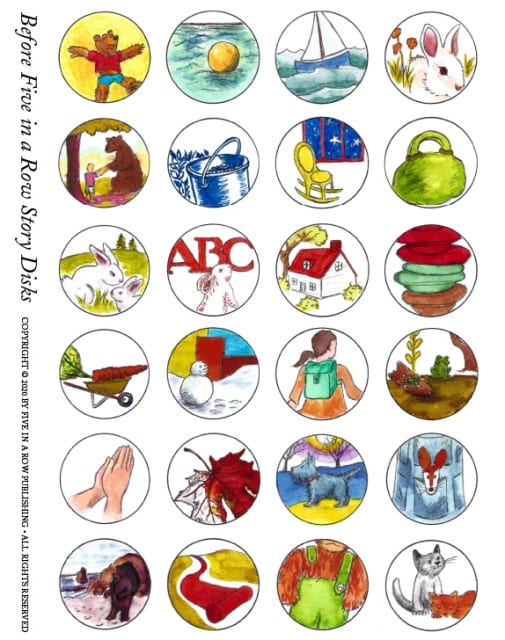 Before Five in a Row
Storybook Map (11×17)
Full-Color + Laminated = $10.00
Used for learning map skills.
Add to cart to purchase.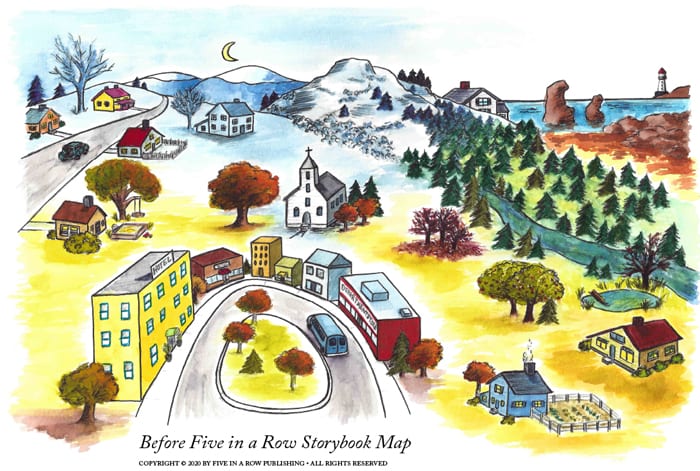 Five in a Row, Printed Products Only Return Policy: You can return items in like-new condition within 30 days of the original ship date for a full refund of the merchandise value. Buyer is responsible for return shipping costs and the original shipping and handling fees are not refundable. If you receive a damaged or incorrect product please notify us right away through the customer service form available at www.fiveinarow.com/contact so that we can make things right.
Literature Package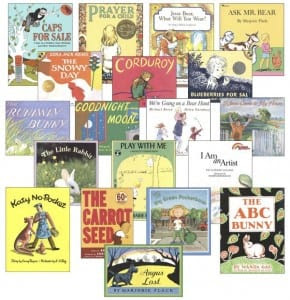 Rainbow Resource Center rainbowresource.com has a literature package for Before Five in a Row. Literature packages are not all-inclusive as there will rarely be a day when every single title is available at the same time, but they offer a great way to get the majority of the books needed for Before Five in a Row in one convenient package. (Manual not included in literature package.)
All individual Before Five in a Row book titles that are available through amazon can be found at the Five in a Row amazon store amazon.com/shop/fiveinarow
FOLD&LEARNTM
Available and FREE to blog subscribers, each Five in a Row FOLD&LEARN™ provides tools and resources that you and your child may use to take each unit's Five in a Row lessons from your manual and combine them with creativity to provide hands-on learning opportunities. There is a combination of games to play, artwork to look at, and much more. There are pages and pages of resources that your child can cut, fold, glue, paste, sort, stack, read, handle, talk about and share. Created in the style of a typical lapbook with content unique to each unit, but different in that how your child puts them together is completely up to them! There isn't a right or wrong answer! Available and FREE to blog subscribers! Sign up for the blog here.
Book List
Jesse Bear, What Will You Wear? by N. W. Carlstrom
Yellow Ball by Molly Bang
My Blue Boat by Chris L. Demarest
The Little Rabbit by Judy Dunn
Ask Mr. Bear by Marjorie Flack
Blueberries for Sal by Robert McCloskey
Goodnight Moon by Margaret Wise Brown
The Big Green Pocketbook by Candice Ransom
The Runaway Bunny by Margaret Wise Brown
The ABC Bunny by Wanda Gag
If Jesus Came to My House by Joan Gale Thomas
Caps for Sale by Esphyr Slobodkina
The Carrot Seed by Ruth Krauss
The Snowy Day by Ezra Jack Keats
The Quiet Way Home by Bonny Becker
Play With Me by Marie Hall Ets
Prayer for a Child by Rachel Field
I Am an Artist by Pat L. Collins
Angus Lost by Marjorie Flack
Katy No-Pocket by Emmy Payne
We're Going On a Bear Hunt by Michael Rosen
The Red Carpet by Rex Parkin
Corduroy by Don Freeman
Jenny's Surprise Summer by Eugenie*
*note: Jenny's Surprise Summer is currently out of print. It was included as an extra title because it provides an excellent opportunity to present decision making at a very young level.