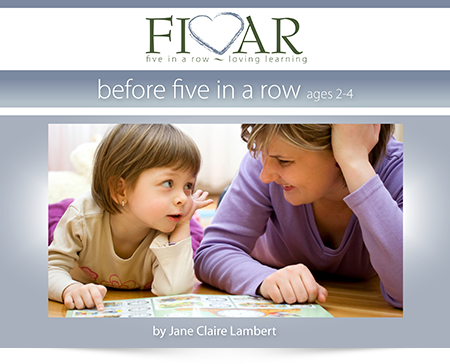 Dedicated to protecting and nurturing the early years of childhood, Before Five in a Row opens up the world of learning through great books and creative play, and builds a solid foundation for more formal education to come.
This important product has two sections: the first presenting 23 Five in a Row-style mini-units (plus an extra mini-unit) based on outstanding children's books for ages 2-4+.  The second presents an entire treasury of learning readiness activities intended to be used in your every day life: things to do in the kitchen, at the store, at bedtime, bath time and more.
These units and ideas are wonderfully effective without robbing your little ones of those special golden years of childhood.
The brief years of early childhood can never be reclaimed, and many parents discover too late that they pushed too hard and too early for advanced academic achievement. You can't go back and swing at the park or float paper boats in the rain or chase fireflies. These play activities for your young children help build the foundation for early learning and encourage a flood of warm memories. These lessons are the important pre-education lessons that will both build your child's mind and fill your child's heart while truly readying them for the deeper academic experience to come.
Before Five in a Row is the perfect introduction to the joys of parent-directed learning in just a very few moments each day!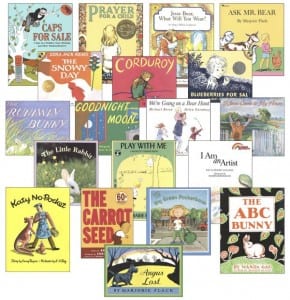 Literature packages are not all inclusive as there will rarely be a day when every single title is available at the same time, but they offer a great way to get the majority of the books needed for each Five in a Row volume in one convenient package. (Manual not included in literature package.)
Available and FREE to blog subscribers, each Five in a Row FOLD&LEARN™ provides the tools and resources that you and your child need to take each unit's Five in a Row lessons from your manual and combine them with creativity to find new and unexpected learning treasures. There is any combination of games to play, artwork to look at, puppets to tell stories and much more. There are pages and pages of resources which your child can cut, fold, glue, paste, sort, stack, read, handle, talk about and share. Created in the style of a typical lapbook with content unique to each unit, but different in that how your child puts them together is completely up to him! There isn't a right or wrong answer!  Available and FREE to blog subscribers!
Jesse Bear, What Will You Wear?, by N. W. Carlstrom
Yellow Ball, by Molly Bang
My Blue Boat, by Chris L. Demarest
The Little Rabbit, by Judy Dunn
Ask Mr. Bear, by Marjorie Flack
Blueberries for Sal, by Robert McCloskey
Goodnight Moon, by Margaret Wise Brown
The Big Green Pocketbook, by Candice Ransom
The Runaway Bunny, by Margaret Wise Brown
The ABC Bunny, by Wanda Gag
If Jesus Came to My House, by Joan Gale Thomas
Caps for Sale, by Esphyr Slobodkina
The Carrot Seed, by Ruth Krauss
The Snowy Day, by Ezra Jack Keats
The Quiet Way Home, by Bonny Becker
Play With Me, by Marie Hall Ets
Prayer for a Child, by Rachel Field
I Am an Artist, by Pat L. Collins
Angus Lost, by Marjorie Flack
Katy No-Pocket, by Emmy Payne
We're Going On a Bear Hunt, by Michael Rosen
The Red Carpet, by Rex Parkin
Corduroy, by Don Freeman
Jenny's Surprise Summer, by Eugenie*
*note: Jenny's Surprise Summer is currently out of print. It was included as an extra title because it provides an excellent opportunity to present decision making at a very young level.