Description
Five in a Row Holiday – Through the Seasons is truly a set of units you will not want to miss, so I mentioned it to you last week.  I truly did not do it justice, nor did I provide you with enough information.  Knowing that it's hard to get your hands on an out of print book that is only sold via digital format, I want to share quite a few more details.
It offers so many suggestions and ideas for all ages, we'd never expect you to do them all in one year. Choose just a few this year! Each unit also includes combinations of traditions and recipes, history, book and/or movie suggestions, quotes, decorating ideas, calendar pages for recording important dates, pages for recording your own memories, traditions, or favorite recipes! (Each unit offers a varied combination and amount of those things.)  I also have to say, these are not things you will be finding on Pinterest as you are looking to create your own family holiday heritage!  These are simple, refreshing ideas that require little planning but offer great reward!
Previously out of print, Five in a Row Holiday – Through the Seasons is now available in small digital sections.  Each Five in a Row Holiday unit includes the cover image and introduction, the chapter contents specific to that time of year, blank calendars, family notes pages and the index for the book in its entirety! Jane Claire and Becky Jane Lambert team up to bring you this delightful treasury of holiday activities, recipes, and memories that will enrich whichever holiday you are celebrating at the time.  I love that they even chose the holidays that often get lost in the shuffle! Different from our manuals in that it isn't designed to be used with a specific children's book each week, Holiday is by far Five in a Row's most personal, intimate book.
Pin this! 👇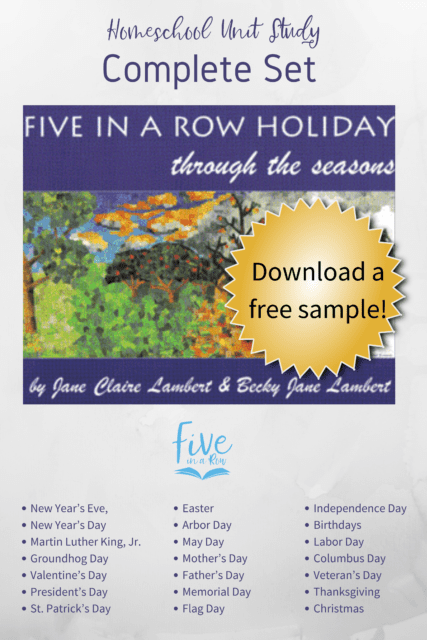 Here are the holidays covered in each unit:
January/February: New Year's Eve, New Year's Day, Martin Luther King, Jr Day, Groundhog Day, Valentine's Day, President's Day
March/April: St. Patrick's Day, Easter, Arbor Day
May/June: May Day, Mother's Day, Father's Day, Memorial Day, Flag Day
July/August: Independence Day and a special Birthdays section full of great ideas for treasure your loved one on their special day!
September/October: Labor Day, Columbus Day
November: Veteran's Day, Thanksgiving
December: Christmas
Includes All Holidays!