Some thoughts we'd love to share with those just starting out on their homeschooling or Five in a Row journey. Less is more in your homeschool.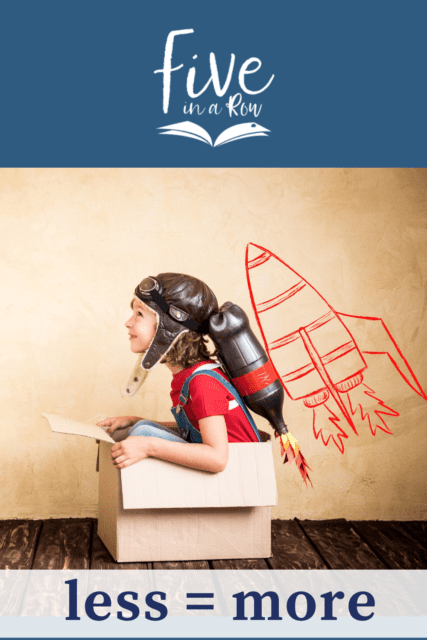 We're so glad you've found Five in a Row and are considering it, getting started on the adventure, or continuing to use it to make amazing memories with your kids and inspire learning through great books!
First and foremost … remember less is more in your homeschool. Let me say that again, less = more! Did you know that it takes almost 400 repetitions of something for a child to create a new synapse or "learn" it? Unless (here's the easy button), unless it is done through play. Guess how many repetitions it takes through play? 10 to 12!!!
One of the reasons that Five in a Row (and Before, More Before and Beyond) are so effective when it comes to retention in children is because less is more in your homeschool and it utilizes discussion and play-based learning.
There's a huge difference between a 2nd-grade social studies worksheet that shows a line art illustration of the Eiffel Tower and mentions that it is located in Paris, France versus reading a story about twelve little girls in two straight lines and pointing out the illustration of the Eiffel Tower. Then discussing that the Eiffel tower is in a city named Paris, in the country of France. Running to a world map to find Paris, France … looking at how it's all the way across the Atlantic ocean (if you're in North America) placing a Story Disk of the Eiffel Tower on Paris, France on the map, and then coloring in the flag of France together while eating a croissant. Honestly, it takes the same 5-10 minutes to do these things that it would take to fill out that social studies worksheet.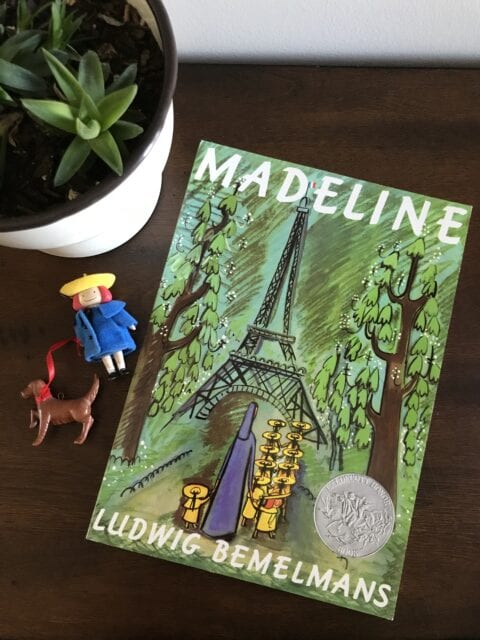 Tomorrow when you read the story, wait for them to jump at the chance to point out the Eiffel Tower illustration and run show you where Paris, France is on the map again. Or, check it out on the globe together on this reading. Have your child create their own Eiffel Tower from LEGO bricks or craft sticks, blocks, cookies, or on Minecraft, playdough, paint a picture … anything works for this!
The lesson about Paris, France, and placing the story disk on the world map is all spelled out for you to follow in the manual … the other ideas are simple play-based ideas that you can implement with any lesson using things you have in your home. That is simply one example of less is more in your homeschool.
The point is, use the manual and then if you plan to add anything (besides the recommended math and phonics program) … add play! That's it. Less is more.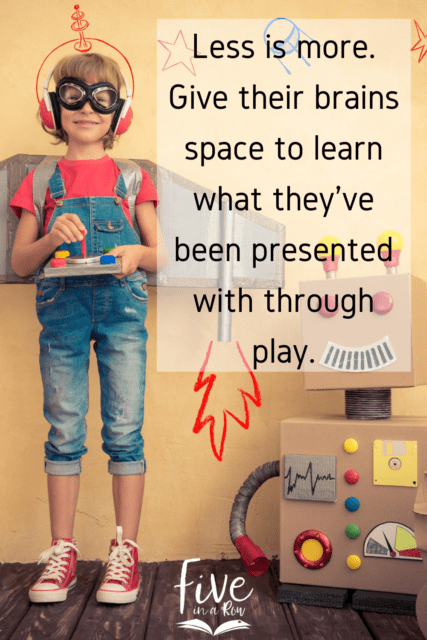 Give their brains space to learn what they've been presented with through play. The learning will happen so much faster … 10-12 times versus 400. They'll come back excited to learn each day if we don't overload them and kill the curiosity. Always leave them interested and wanting a little more!
Are you starting to see why I say less is more in your homeschool?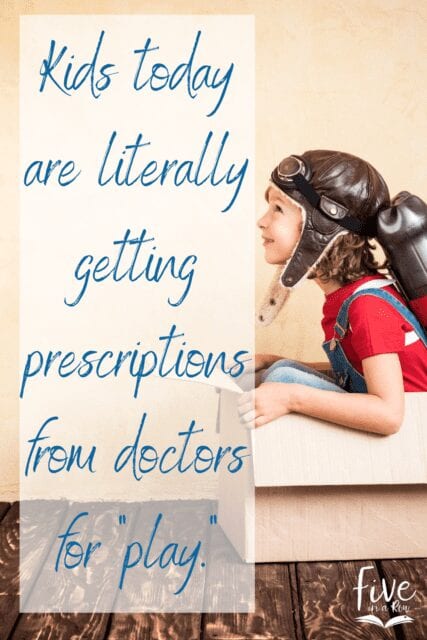 Kids today are literally getting prescriptions from doctors for "play." Hopefully, as homeschoolers, your children have a bit more free time and playtime than kids that are in the classroom 8 hours a day and then in extracurricular on evenings and weekends. Even then, how often do we feel the pressure to "teach" more and play less? And, if you are counting hours … that playtime that your kids are re-enacting the story you've read or pretending they're on an adventure to Paris, France to see the Eiffel Tower – those hours can absolutely count towards geography and language arts (acting out stories is practicing narration and storytelling which are both early literacy skills that will form a foundation for their essays and fiction writing later on)!
Hopefully, if you're feeling the pressure this will ease your mind and help you have faith in Five in a Row. It's been tested and proved to provide a wonderful discussion, interest and play-based learning opportunity that will not only be "enough" (more than enough) for now, but will instill a love of learning that will be with your child throughout their lives and benefit them in their future studies, careers, and lives.
For your veteran homeschoolers, share with us. Do you have an example of less is more in your homeschooling?