Valentine's Day is right around the corner, so we want to  be sure you have time to reserve these books at your library or find great deals to order. Holidays provide one of the easiest opportunities to build traditions with our family.  And reading favorite books year after year is a delightful (and easy!) tradition to start!  I like to order one new book each season if I can, and that helps build our collection without breaking the bank. If you have a used bookstore nearby, that's even better!  We've shared quality books we recommend and some FIAR topics you can study or review as you read them.
Don't forget the Five in a Row Holiday Chapter for February (not based on a specific title) for starters! It contains recipes, activities, traditions and Jane Claire's heart for these holidays.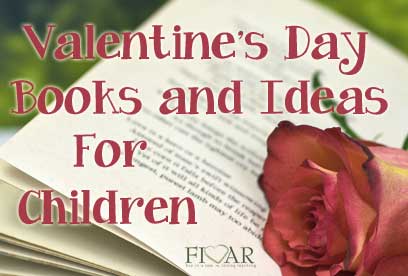 Valentine Bears by Eve Bunting – Mrs. Bear has a surprise in store for Mr. Bear. She's gotten up during hibernation just so they can celebrate a special Valentine's Day. Her preparations show the love she has for Mr. Bear. Mr. Bear, as it turns out, has some surprises of his own. Together they share a special day before once again settling down for a long sleep.
You can focus on bears for science this week and discuss the language arts concepts of fiction and non-fiction stories with this one!
Happy Valentine's Day, Mouse! by Laura Numeroff – Join Mouse from If You Give a Mouse a Cookie as he celebrates Valentine's Day with all the friends he loves.
Amelia Bedelia's First Valentine by Herman Parish- A typical Amelia Bedelia story, tailored for younger readers. Young Amelia Bedelia makes valentines for her classmates with adorable misunderstandings. For instance, she sticks a Band-Aid on a card that says, "Heartbreaker" and puts a blanket on a valentine that mentions being cool. The book's pink, flowery appearance will appeal to young girls. While the content is sweet and the illustrations are well done in color sketches with imperfect lines, resulting in a relaxed feel, the text isn't memorable in the least. Younger children may giggle at a few of the pictures such as of Amelia as a wolf, wolfing down breakfast, but the writing doesn't live up to Peggy Parish's clever and ingenious original books.
Amelia Bedelia books are great books for reviewing rhyming, alliteration and humor in language arts!
Cranberry Valentine by Wende Devlin – Cranberry Valentine, told with warmth and gentle fun, is a tale of valentines sent anonymously to Mr. Whiskers. Mr. Whiskers has never been the recipient of a valentine before, and he is scared and bewildered. His young friend Maggie and her grandmother help him to discover the identity of his secret admirer and enjoy a happy Valentine's Day after all. How Mr. Whiskers solves the mystery of his secret admirer and enjoys a Happy Valentine's Day after all makes this another appealing story in the much loved Cranberryport series.
Most of the Cranberry Thanksgiving unit topics would apply to this book, so it's a great review opportunity as well. That unit offers geography, science, applied math and social studies that could be applied to this book.
Saint Valentine by Robert Sabuda – In ancient Rome there lived a gentle and humble man named Valentine. He was a physician, but he was also a Christian priest whose life and freedom were in constant danger in a city of people who believed in so many gods, not just one. So Valentine tended to his patients in the daytime, but he prayed for them only at night.  One day a jailer from the emperor's prison appeared at Valentine's door with his small child, a girl who was blind. Knowing the difficulty of curing blindness, Valentine vowed to do his best, and over the weeks of treatment and prayer the three became fast friends. But even his friendship with the jailer could not save Valentine when the Roman soldier came to imprison him.  Here, accompanied by Robert Sabuda's dramatic mosaics evoking the time period in which the story takes place, is the story of a man whose goodness and faith brought about a miracle, and whose name lives on today in one of our most celebrated holidays.
Learning the history behind a holiday is always a great way to make the holiday more rich for your child. Geography of Ancient Rome is perfect for this one as well.
All for Love by Tasha Tudor – Love is in the air with this lovely, terribly romantic collection by beloved Caldecott Honor artist Tasha Tudor. Tudor gathers "some of the most wonderful and wise observations on love ever written, by some of the world's greatest romantics," including Michael Drayton, who penned the verse above. With poems, songs, stories, letters, love potions and charms, and excerpts from such luminous writers as Edna St. Vincent Millay, William Shakespeare, Emily Brontë, Robert Browning, Chien Wen-ti, Colette, and Ralph Waldo Emerson, All For Love is a celebration of the delicious pain and pleasure of love. Tudor's warm, old-fashioned, full-page watercolors accompany each ode to passion and tenderness. In addition to the literary excerpts, Tudor has included a section on her own family's Valentine's Day traditions, from heart-shaped cake recipes to Martha Stewartesque flowerpot cards to fun, meaningful projects for the whole family.
Spend some time learning and engaging with the art of poetry with your children for language arts.