The heart of Five in a Row as a company is to encourage research in child-sized pieces, avoid mindless paperwork, and develop a love of learning and exploration. Five in a Row is built on quality literature.  We take that literature and offer loads of topics to be explored further. Inherent in Five in a Row is the concept of open ended thoughts about a topic… a child following her interest sparked by a book about an elephant leading to a month long delight in all things elephants leading to a dream of an African safari and Oh! what other animals live on the savanna? Phew! Anyone else have a child like that? Rather than leading our children to a correct answer that has been predetermined by the creator of a worksheet, and quite possibly even squelch  their own interests on a topic, the concept of notebooking gives children an opportunity to to share what they think is remarkable and memorable, encouraging independent, critical thought!
When you use the notebooking method, you present the lessons, learn about the concepts together or individually, and then allow the child to share what  he thinks is remarkable in the way that works best for him: drawing a picture, dictating to you his understanding, writing a story to explain her thoughts, rewriting a story to make it funny, writing short report, etc. We realize that homeschool life is busy, and it's really nice when something is made a little easier for us by being readily available.
We have created a Notebook Builder to make it easy for the busy homeschooling mom to do Five in a Row and Beyond Five in a Row the way they were intended!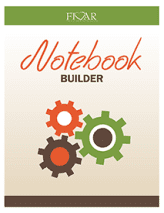 This digital component is comprised of over one hundred printable pages that can be applied to any Five in a Row or Beyond Five in a Row unit study, and any unit study for that matter. Rather than a fill-in-the-blank worksheet on an elephant, for example, we have provided a mini-report form with prompts that could be used for any animal. Vocabulary pages, half blank and half lined pages, blank framed pages for drawing, blank life cycle charts, timeline printables, maps etc. Yes, I said maps and timeline printables! We have included maps and absorbed our timeline product into this Notebook Builder so it's truly a one-stop-shop product for you.
You pick the page most applicable for your situation on any individual day, print it off and you're ready to go!
We designed this for ages 4-14, and for that reason some pages are provided in 2 versions – one for a younger child and one for an older student, though many other pages can be used for all ages because of their versatility. While this product was created with Five in a Row and Beyond Five in a Row lessons in mind, it can easily be used with any topic or unit study. The pages do not contain book titles or character names, rather they offer a scaffold for bite-sized research and exploration that can be applied to any topic over a number of typical subject areas. This Notebook Builder can easily be used by any homeschooling family, regardless of their curriculum choice.
Just so you know how much is included, this product includes these pages:
Language Arts – character sketch forms, KWL chart, Venn diagram, comparison charts, choices a writer can make, 5 elements of a story, story map, retell the story, writing tools, vocabulary, free writing pages
Science – scientific method, life cycle printables for 3,4,5 stage cycles, animal report, water cycle, moon phases, science vocabulary list
Social Studies – many report forms for people, state, country, and war reports, character sketch forms, blank flag
Christian Character & Bible Study Supplement – comparison chart, character traits to emulate & avoid
Art – choices an artist can make, drawing and media techniques
Multi-purpose – many versions of printables for any topic of study – favorite facts, draw and write, list forms, five things I've learned, If I were…
Maps – a map of each continent, two versions of a world map and a map of the United States
Field Trip – several versions of field trip report forms
Timeline – printables to create your own notebook timeline

AND MORE!
View a sample of the Five in a Row Notebook Builder, but know that this is less than 1/4 of what is offered. It's very difficult to provide a sample that accurately displays a product where every page is unique.

Purchase your Five in a Row Notebook Builder  and get started on creating your Five in a Row Notebook full of memories today! Buy now!