Beyond Five in a Row (Ages 9-12)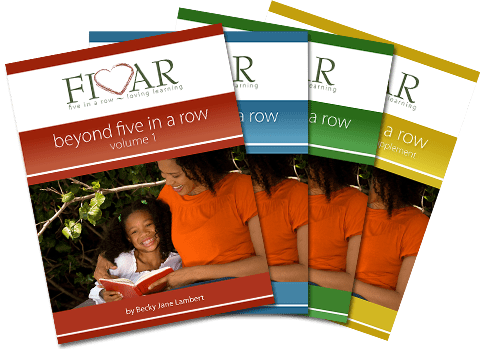 Building on the foundation of loving learning and the joy of discovery begun in Five in a Row while upholding academic excellence, Beyond Five in a Row will encourage critical thinking and develop character growth in interpersonal relationships. This is one of our most unique product lines!
Beyond Five in a Row is similar to Five in a Row in that it is based on quality literature, academically rich and focused on enjoying the learning experience. It is different in that the books chosen are chapter books rather than picture books, and half of the books covered are biographies. Each book unit is designed to take six to eight weeks to complete, and there are three volumes of four units each and one additional unit – enough schooling material for two to three years, depending on your student.
You will be astounded at the richness and the joy of learning that flows from these carefully chosen chapter books and the accompanying Beyond Five in a Row lessons.
This is truly a rich curriculum taught in a way that encourages students to think, wonder, research, and quickly find a place to apply what they have learned.
Best of all, Beyond Five in a Row students want to keep learning- no burnout here!
Above and Beyond Five in a Row (ages 12+) is unit study based on Hitty: Her First Hundred Years and is designed to be used independently by the student. Students can take this book on their own and set off on a wonderful learning adventure in the best Five in a Row tradition- great books, fascinating lessons and exciting learning. It is similar to the other Beyond Five in a Row units, but adds instruction on writing a research paper and participating in a community project.
Both levels of study include creative writing or essay projects with every lesson, social studies (including history, geography, human relationships), science, vocabulary, career path studies and much, much more. All you'll need to add is daily arithmetic and the trio subjects grammar/spelling/penmanship. Everything else is included!
We also sell a Five in a Row Cookbook (including recipes for Beyond and Five in a Row Volumes 1-3) and Christian Character & Bible Supplement to complement your Beyond Five in a Row lessons. (These lessons are included in the Above & Beyond unit.)
All of the Beyond Five in a Row units inspire a depth of study that builds upon the academic foundation of Five in a Row both in the realm of character development and superb educational lessons.
Digital products are available here.
---
Please Read – Important Information!
*** Five in a Row is in the process of creating Second Edition volumes that include the Beyond Five in a Row titles and lessons. Five in a Row Volume 5, Second Edition will include, The Boxcar Children by Gertrude Chandler Warner and Betsy Ross, Designer of Our Flag by Ann Weil (Childhood of Famous Americans Series).

If you have completed Five in a Row Volume 4, First Edition, you can either wait for Five in a Row Volume 5, Second Edition (to be released late 2021), or, you are ready to begin the first edition of Beyond Five in a Row volumes 1, 2, or 3 (volumes 1 and 2 are interchangeable in difficulty while 3 is slightly more advanced). You will be able to purchase these First Edition volumes and finish out your Five in a Row journey with your student!

If you have already started Five in a Row Volume 5, Second Edition (to be released late 2021) you will not want to purchase Beyond FIAR Volumes 1, 2, 3, or Above and Beyond FIAR and instead will want to wait for Five in Row Volumes 6, 7, and 8 which will include the titles and lessons previously in Beyond FIAR.
---
Print Products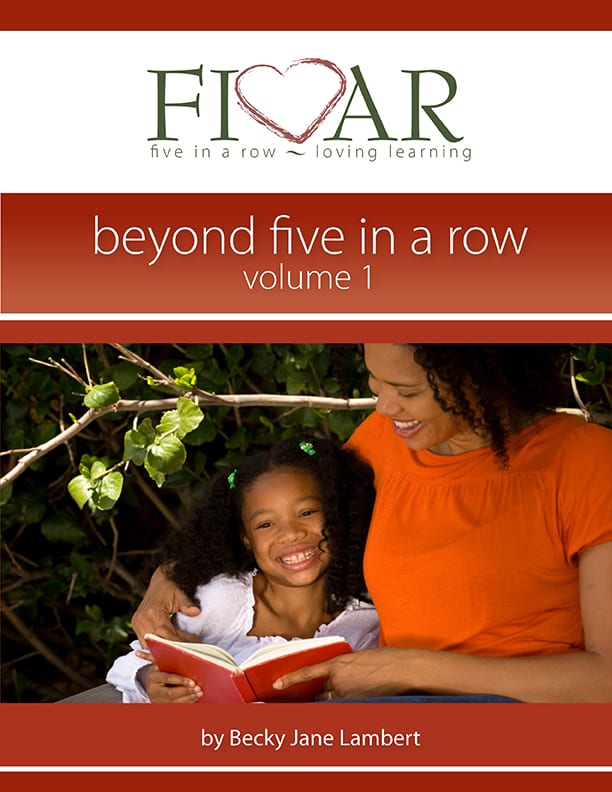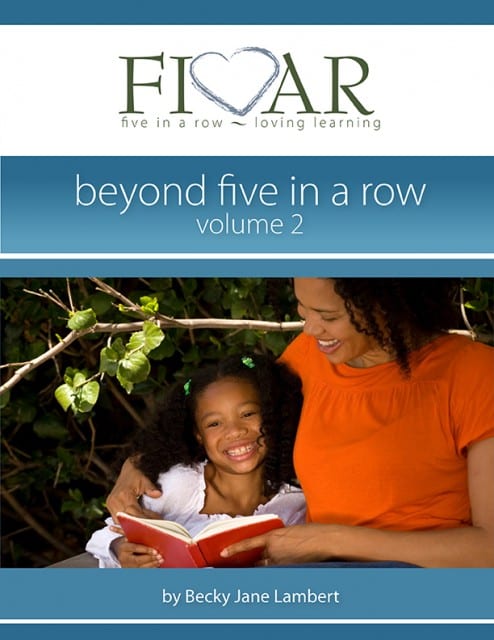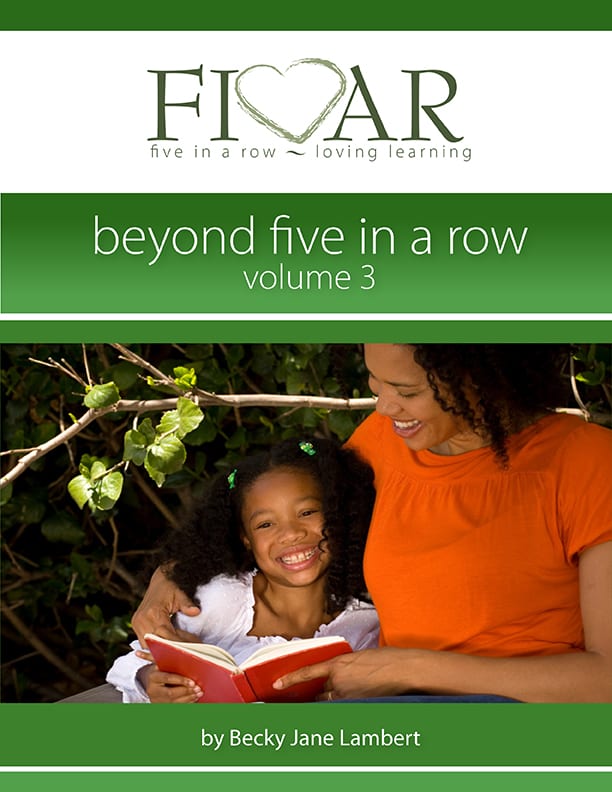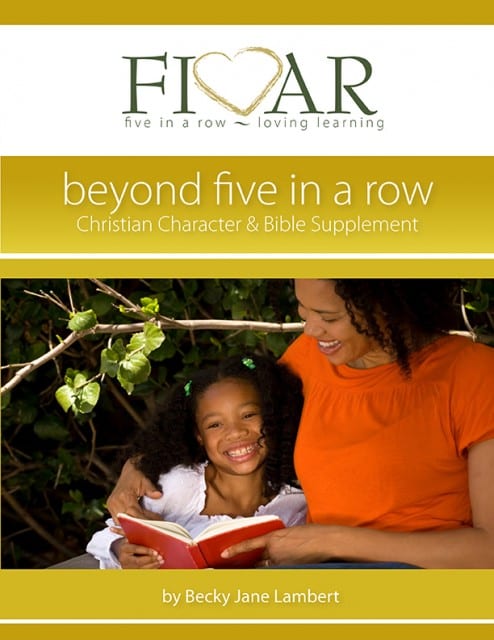 To Request Information on the
Beyond Christian Chracter & Bible Supplement
Please Email carrie@fiveinarow.com
---
Digital Products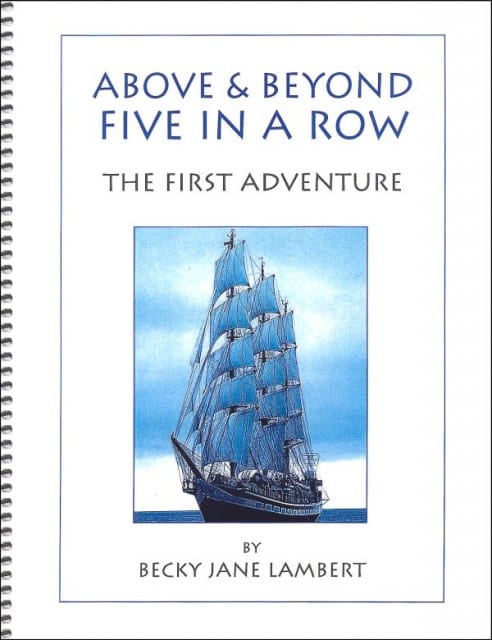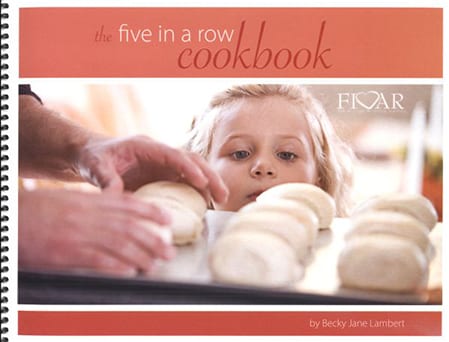 FOLD&LEARNTM
Each Beyond Five in a Row FOLD&LEARN™ provides the tools and resources that you and your child need to take each unit's lessons from your manual and combine them with creativity to find new and unexpected learning treasures. Created in the style of a typical lapbook with content unique to each unit and subject, but different in that how your child puts them together is completely up to him! There isn't a right or wrong answer!
NOTEBOOK BUILDER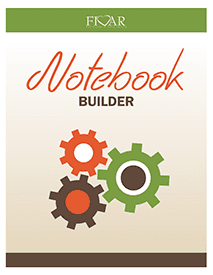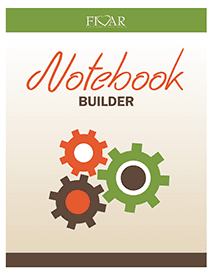 This Notebook Builder was designed to make it easy for the busy homeschooling mom to do Five in a Row & Beyond Five in a Row the way they are intended to be done: to present information in bite-sized pieces, encourage research in child-sized portions, avoid busywork, and develop a love of learning and exploration by providing a format for the child to share what is interesting to him! This digital component is comprised of over 100 printable pages that can be applied to any Five in a Row unit study, or any topic of study for that matter. We have included maps and our timeline templates as well! The pages do not contain book titles or character names, rather they offer a scaffold for bite-sized research and exploration that can be applied to any topic over a number of typical subject areas. Learn more and view a sample here.
Book Lists
*Literature packages are not all-inclusive as there will rarely be a day when every single title is available at the same time, but they offer a great way to get the majority of the books needed for each Five in a Row volume in one convenient package. (Manual not included in literature package.) Literature packages are available through Rainbow Resource Center at www.rainbowresourcecenter.com
Beyond FIAR Volume 1
The Boxcar Children by Gertrude Chandler Warner (to be included in Five in Row Volume 5, Second Edition)
Homer Price by Robert McCloskey
Thomas Edison, Young Inventor by Sue Guthridge (Childhood of Famous Americans Series)
Betsy Ross, Designer of Our Flag by Ann Weil (Childhood of Famous Americans Series) (to be included in Five in Row Volume 5, Second Edition)
---
Beyond FIAR Volume 2
Sarah Plain and Tall by Patricia MacLachlan
Skylark by Patricia MacLachlan
The Story of George Washington Carver by Eva Moore (Scholastic Biography)
Helen Keller by Margaret Davidson (Scholastic Biography)
---
Beyond FIAR Volume 3
Neil Armstrong – Young Flyer by Montrew Dunham
The Cricket in Times Square by George Selden
Marie Curie – And the Discovery of Radium by Ann E. Stineke
The Saturdays by Elizabeth Enright
---
Above and Beyond Five in a Row
Hitty: Her First Hundred Years by Rachel Field