More Before Five in a Row (Ages 3-5)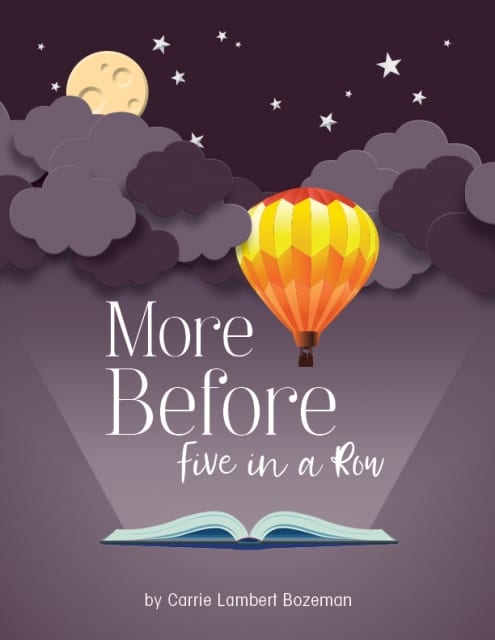 Building on the foundation of the bestselling Before Five in a Row volume, More Before Five in a Row inspires your child's learning through extraordinary children's picture books while nurturing your relationship with them and making memories to last a lifetime! Designed for ages 3 through 5, this preschool and kindergarten curriculum is filled with lessons for you and your child to enjoy together and prepare your child for the lifelong adventure of learning.
Lessons covering six early literacy skills build a solid foundation for their future reading and writing success, while lessons covering science, social studies, applied math, language, and art concepts, playfully drawn from each story, boost their readiness for future academic endeavors. A focus on play and discussion-based learning favors the way a young child learns and retains information.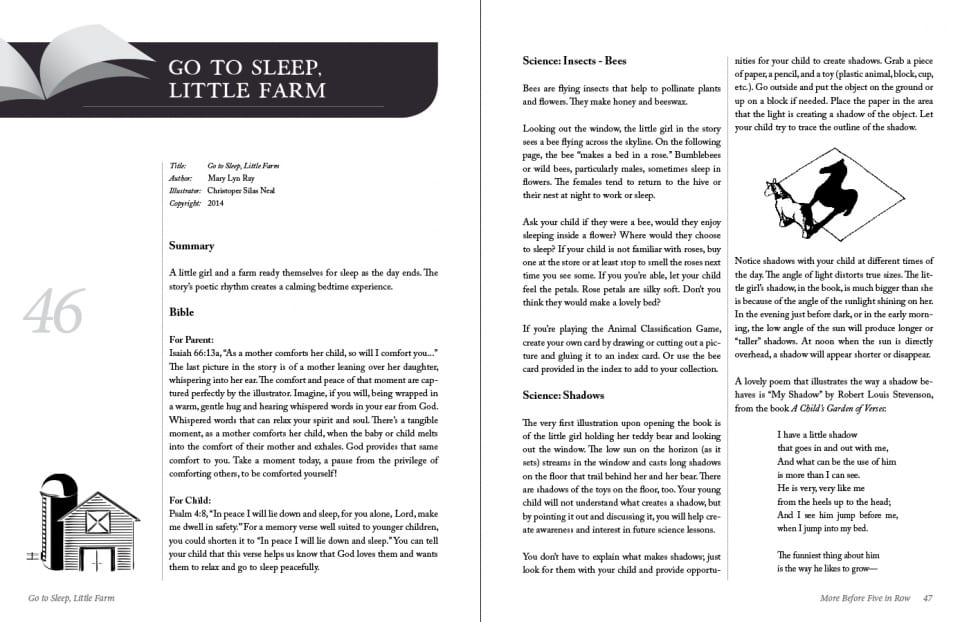 Lessons are drawn from a wide variety of outstanding children's books, including All the World, Baby Bear Sees Blue, Toot & Puddle, and Mighty, Mighty Construction Site.
Teaching Tips throughout help you apply important ideas from the lesson to everyday aspects of your child's life.
Animal Classification Cards help children develop simple, enjoyable classification skills.
Story Disks and a Storybook Map (black & white) provide hands-on fun for daily learning and prepare your child for later studies with Five in a Row.
Bible verses and devotionals (one for the parent, one for the child) are included for every book.
FREE STORYBOOK MAP!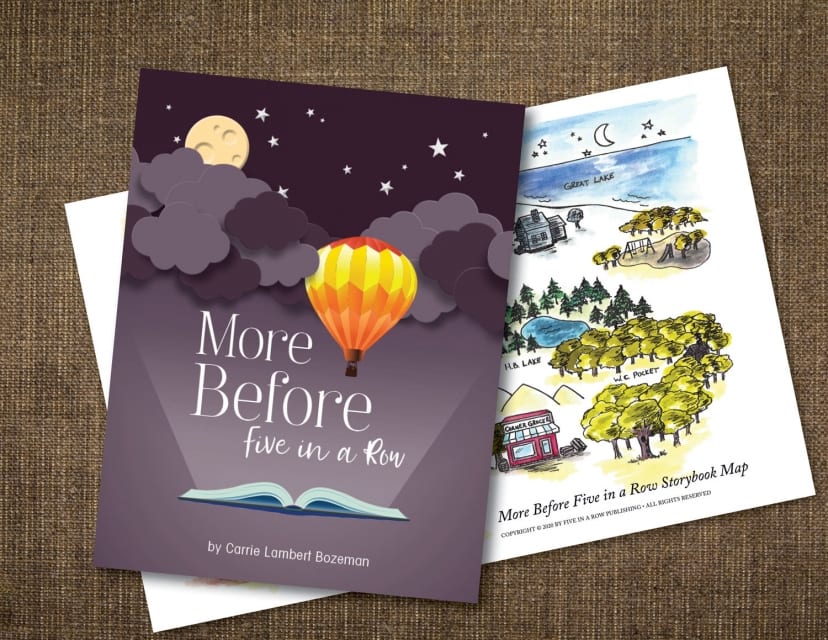 (Full Color)
If you purchase More Before Five in a Row here on fiveinarow.com you will automatically receive an 11×17, full-color laminated Storybook Map ($10 value) for FREE!
(Black & white versions of the Story Disks and Storybook Map are included in the manual. Orders placed at other approved retailers will NOT include the free 11×17, full-color, laminated Storybook Map.)
More Before Five in a Row
Story Disks
Full-Color + Laminated = $10.00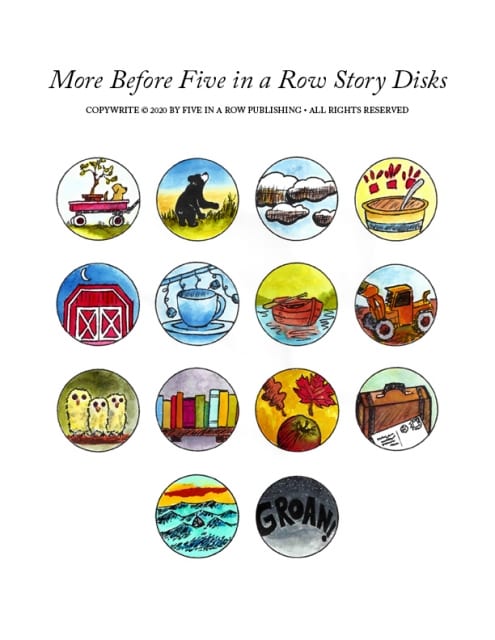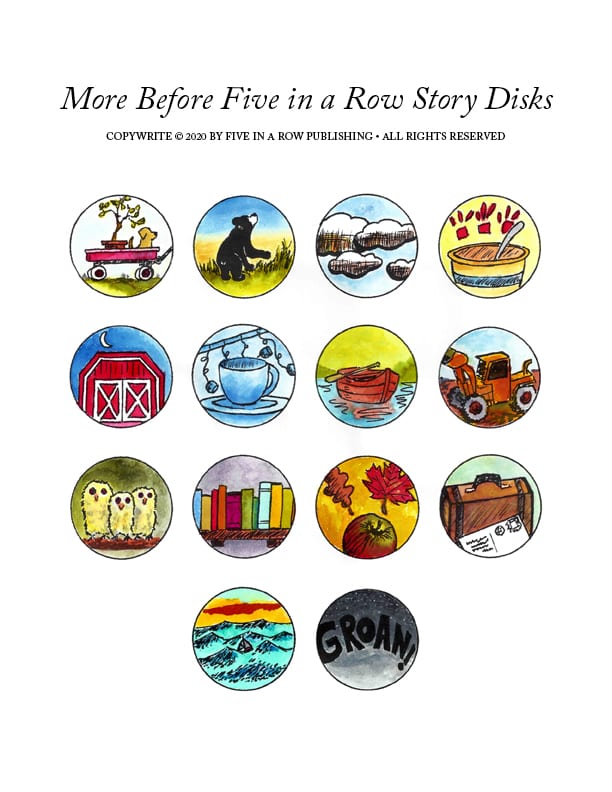 More Before Five in a Row
Storybook Map (11×17)
Full-Color + Laminated = $10.00
(Do not add this storybook map to your cart if you are also purchasing More Before Five in a Row from our website. It will automatically be added to your shipment at no charge.)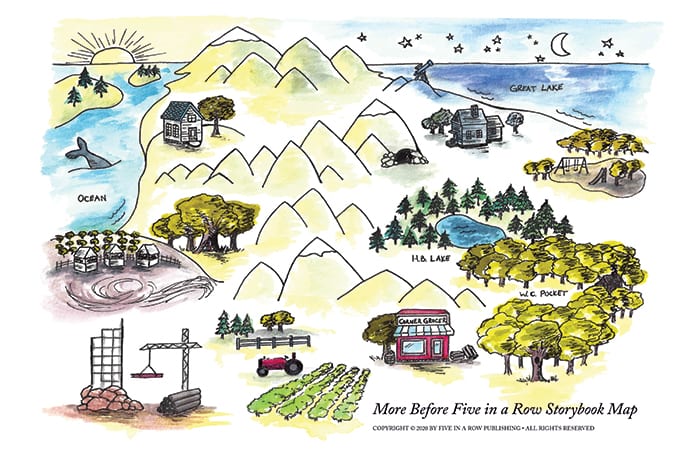 Five in a Row, Printed Products Only Return Policy: You can return items in like-new condition within 30 days of the original ship date for a full refund of the merchandise value. Buyer is responsible for return shipping costs and the original shipping and handling fees are not refundable. If you receive a damaged or incorrect product please notify us right away through the customer service form available at www.fiveinarow.com/contact so that we can make things right.
Book List
All the World by Liz Garton Scanlon
Baby Bear Sees Blue by Ashley Wolff
Blue on Blue by Dianne White
Bunny Cakes by Rosemary Wells
Go to Sleep, Little Farm by Mary Lyn Ray
In a Blue Room by Jim Averbeck
Little Bear's Little Boat by Eve Bunting
Mighty, Mighty Construction Site by Sherri Duskey Rinker
Owl Babies by Martin Waddell
Red Knit Cap Girl and the Reading Tree by Naoko Stoop
Thanks for Thanksgiving by Julie Markes
Toy Boat by Randall de Sève
Waiting is Not Easy! by Mo Willems
Toot & Puddle by Holly Hobbie