Jane fell in love with this book a few years ago and she and Carrie Lambert Bozeman have written a unit to share with you!
The Tree Lady: The True Story of How One Tree-Loving Woman Changed a City Forever, 
written by H. Joseph Hopkins and illustrated beautifully by Jill McElmurry.
Katherine Olivia Sessions never thought she'd live in a place without trees. After all, Kate grew up among the towering pines and redwoods of Northern California. But after becoming the first woman to graduate from the University of California with a degree in science, she took a job as a teacher far south in the dry desert town of San Diego. Where there were almost no trees.

Kate decided that San Diego needed trees more than anything else. So this trailblazing young woman singlehandedly started a massive movement that transformed the town into the green, garden-filled oasis it is today. Now, more than 100 years after Kate first arrived in San Diego, her gorgeous gardens and parks can be found all over the city.

Part fascinating biography, part inspirational story, this moving picture book about following your dreams, using your talents, and staying strong in the face of adversity is sure to resonate with readers young and old.
This story is full of excitement and inspiration as Kate Sessions uses her knowledge, determination, hard work, and love of nature to create a stunning achievement –Balboa Park in the city of San Diego!  2015 marks the year long Centennial Celebration of Balboa Park, so this is a great time to find this remarkable story and enjoy reading about the current events surrounding the book, as well.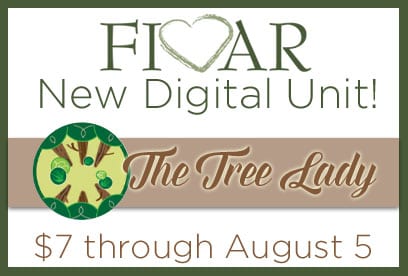 The Tree Lady is a digital unit that includes lessons in Social Studies (Geography and History), Language Arts, Art, Applied Math, and Science. And like other Five in a Row Volume 4 style units, there is a Bible Character Supplement lesson, the Cookbook section for this unit. and also a story disk is included.  This unit is not included in any of the printed manuals.  It is an exclusively digital unit.
This study is a full length, digital Five in a Row Volume 4-style unit, though it can also be adapted to younger students.
I have this book on its way to my house as I type!