The 2013-2014 Five in a Row Planner is available (and we have a SAMPLE for you to view)!
The Five in a Row Planner™  was created to simply and practically plan your homeschool days in a visually attractive format including artwork by Jane Claire Lambert, customized for Five in a Row!  This planner includes all you'll need for all of the levels in one 100 page file, via digital download.
Print out your Before, Five in a Row or Beyond Planner at your local copy shop or at home. You choose from the 4 cover images provided. Have it spiral bound or store it in a 3-ring binder, whichever you prefer. Print new pages as you need them, or print it all at once…it's up to you!
The planner includes printables for:
Thoughts as you begin this year, from Jane Claire
A how-to-use section
Monthly calendar pages
Year at-a-glance

Monthly holidays at a glance

Monthly family events at a glance

Several age levels of chore charts
Several versions of weekly planner pages
Library list
Grocery list
Meal planning
Printable book lists for each level of Five in a Row
Planning pages for multiple children or children with special needs
Certificates of graduation from Before, Five in a Row & Beyond
Special pages and planning printables that are specific to Before, Five in a Row and Beyond
Journaling pages for Before, Five in a Row, Beyond and for you, the teacher, to journal about your day
Study tips for your Beyond student
A Volume 4 level unit for Paper Lanterns
And more!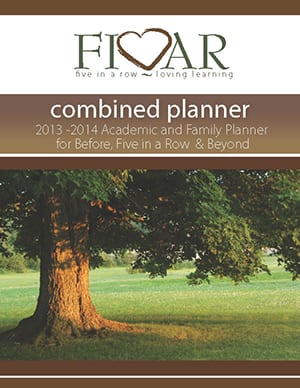 When you buy your Five in a Row Planner™, you will also receive a new Five in a Row Unit Study with lessons to use with the story called Paper Lanterns by Stefan Czernecki. This is a story of a small boy with a passion who is able to withstand obstacles, make a friend, and expertly learn a craft. He may be small in stature but he is large in character and talent!
This study is a full length Five in a Row Volume 4-style unit, though it can be adapted to younger students as well. You will enjoy the story and all the bright illustrations of this special book as the FIAR lessons take you and your student in many different directions.
View a sample of the Five in a Row Planner™  here (knowing that this is only 8 of 100 of the pages included) and get started planning your Five in a Row journey today!  Typically $14, it's on sale for 5 days (through August 23) for $11!  [mp_buy_button product_id="7284″ context="single"]