With the upcoming celebration of Valentine's Day, I was sitting in my office pondering expressions of close families, family ties, and family love as portrayed in literature. Suddenly the titles of books and pictures of families, began to run through my mind: 
The Swiss Family Robinson
, 
Little Women
, 
Little Men
, 
Heidi
 (when she makes it back to the arms of her Grandfather on the Alm), 
Hans Brinker and the Silver Skates
, and 
The Five Little Peppers and How They Grew
 . If I had waited there would surely have been some more.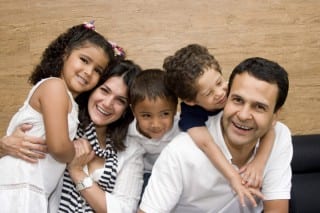 Instead, I thought I'd write out my first ideas and let you think back about the ones that you have read. Think back and enjoy the wonderful pictures of strong family ties and love portrayed in these books. I can picture each family in my mind…the family members and their personalities and how, even though the siblings fought as siblings do, they pulled together often, and always when necessary. And adults were there to hold them and guide them and show them love. As this Valentine's Day approaches, reach out and hug the ones you love, and maybe read a bit from one of these family books…families are indeed a special gift!
Here are five other suggestions of books to read as well:
St. Valentine retold and illustrated by Robert Sabuda. This is a telling of the story of the man, Valentine, who lived in ancient Rome and whose memory is celebrated in the holiday.
Pete's A Pizza, by William Steig.  This is a book for the Before FIAR age group (but I love it, too), that portrays a family which loves their boy and creatively makes a rainy day special! It's called,  My almost 2 1/2 year-old granddaughter is enjoying this story quite a bit these days.
My Mama Had a Dancing Heart by Libba Moore Gray is a young girl's vibrant reminisces of her mother! A truly beautiful book.
The Trees of the Dancing Goats by Patricia Polacco is a story of an entire family loving their neighbors in difficult times. If you find and read this book it will be a bit of a step back in the year…because this book is about Christmas…but this tale of love is a strong one.
Tasha Tudor's All for Love isan anthology of verse and story and pictures gathered around the love theme. There might be something in her volume that you would enjoy incorporating into your Valentine's Day activities.
Little Valentine's Day parties might also be a great time to put a shine on manners. Three books to think about for this topic are:
Madeline Says Merci, The Always Be Polite Book by John Bemelmans Marciano (grandson to Ludwig Bemelmans who created Madeline).
A Little Book of Manners, Courtesy & Kindness for Young Ladies by Emilie Barnes
A Little Book of Manners for Boys by Bob Barnes
Raggedy Ann, A Thank You, Please, and I Love You Book by Nora Smaridge.
Additionally, don't forget the Five in a Row Holiday unit that includes a delightful section on Valentine's Day!
Take quick moment to share what Valentine's Day books you recommend!