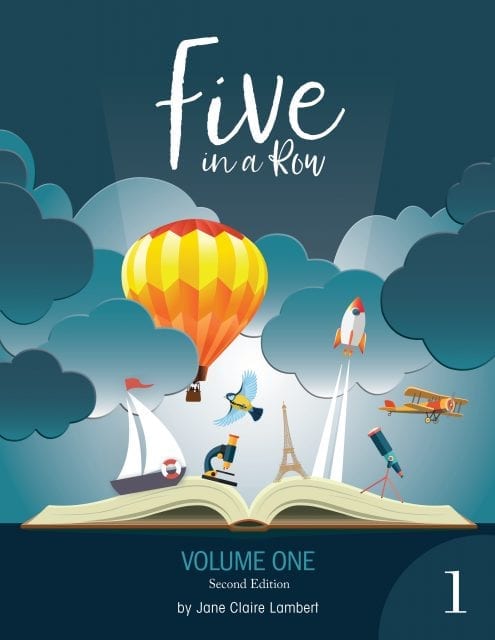 Do you want to know what's new in the second edition of FIAR Volume One? It has over 100 pages of NEW CONTENT!
We've been working hard to give Five in a Row a much deserved (after 25 years) redesign. You've seen More Before Five in a Row the most recently written manual in the Five in a Row line and the Five in a Row Mini Units. You've seen the second edition of Before FIAR with its new portrait format, new images, updated text and the addition of the Animal Classification Cards, Story Disks, and Storybook Map! The covers of these new products clearly define the beauty and creativity behind our mission at Five in a Row … Inspired Learning Through Great Books.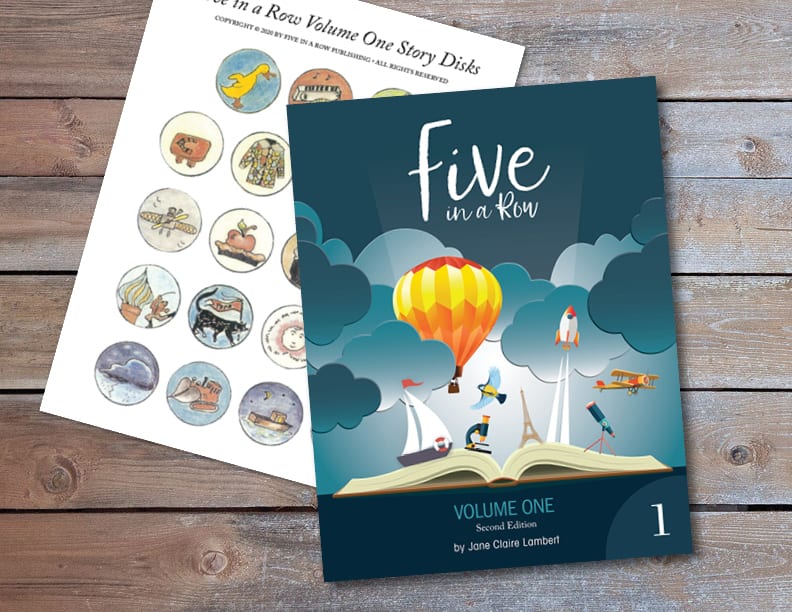 Completely redesigned and updated throughout, Five in a Row Volume One, 2nd Edition, is an easy-to-follow, highly effective instructional guide for teaching Social Studies, Language, Art, Applied Math and Science using outstanding children's literature as the basis for each weekly unit study. Lessons are designed for children ages 5 through 9, and include discussion guide and questions, teacher answers, hands-on activities and suggestions for further study.
New features in this second edition include new images and illustrations, edited text for clarity, correction of errors, and to make it more culturally relevant. Jane Claire's Tips for Those Beginning Five in a Row, with step-by-step teaching guidance for each day of the week; Teacher's Notes pages for every title, providing a place to record lessons, go-along resources, favorite memories, and more; and Activity Sheets for every title that support and add to the lessons!
The Activity Sheets include a flag for your student to color in of different countries that are covered in the lessons. There are Activity Sheets for different subjects (science, geography, social studies, language, art, or math) depending on the lessons in each title. These pages are a great way to deepen the learning and document what your child is learning for your own reference/records or for state requirements. Your student can dictate answers if writing does not match their verbal ability to explain things. You are always encouraged and welcome to write their answers for them if desired.
We want to thank everyone who uses Five in a Row and who supports our small business. During this transition, we want to assure you that the first edition, Five in a Row Volume One has all the same titles and lessons that are in the new edition; it will continue to support you and your children on their learning journey and will help you make wonderful lifelong memories together!
If you choose to purchase the new Five in a Row Volume One, Second Edition from www.fiveinarow.com you will automatically receive the full-color, laminated story disks for FREE! (DO NOT add them to your cart!)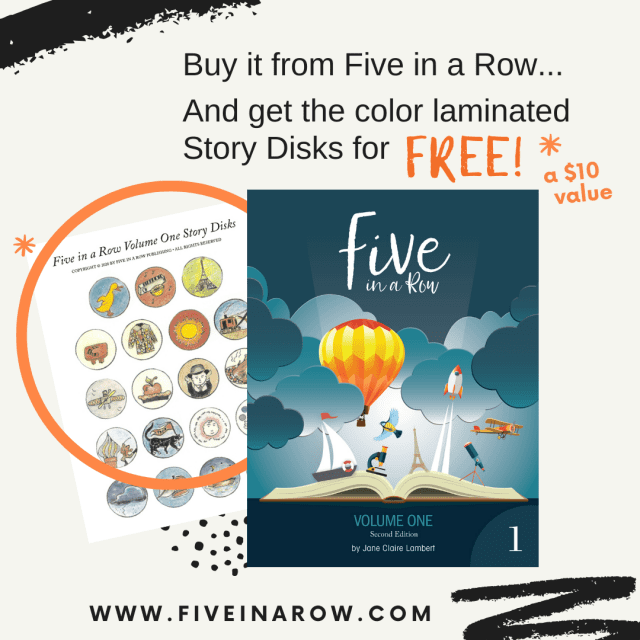 Thank you for choosing Five in a Row and we hope that it fosters … Inspired Learning Through Great Books … for you and your family!